I have recently fallen in love with a print I used to consider a little silly and chidish: stars! (duh, it's in the title).
From Dolce and Gabbana on the runway to high street brands like H&M and Zara it seems to be taking on the world and also enchanting some of my favourite style stars (pun very much intended, but not so potent). I fell in love how it combines cute, chic, cool and playful for a pretty unique look (e.g. hearts= a little TOO cute).
Take a look and decide for yourself!
Stars: do or don't?
This perfect outfit is where the obsession began for me :) I managed to locate a very similar shirt in Zara but at 40e I'm still a little hesitant to get one :P


D&G jacket. I love stars and fur (well, fake fur). SO this looks like perfection!
I love the more relaxed look of this shirt
Asos :)
The ones who seem to have started the whole commotion: D&G fall collection.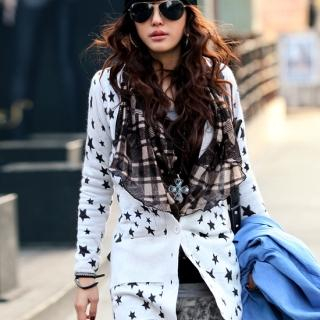 I was surprised to notice that this gentler colour combo appealed to me just as much as it's more radical cousin the B&W.
I love this sort of Americana, surf-girl type of look on her
This combination just made me die and go to heaven!
on one of my favourite bloggers from befrassy
and of course the queen of cool, the lovely and ever so stylish Mossy! Here in Chanel.
If you're a bit too shy to go all out start with cute accessories like these shoes from Aldo or this Armani Exchange scarf (which would look STUNNING as a headscarf...hint hint):